Sunrise Dental Center - Dental Blog
Coffee, Tea and your Pearly Whites
We know most of you have just got to have your daily coffees and teas; even WE can't live without it ourselves (*wink* to Dr. Steven). But some may not know that these beverages usually wreak havoc on pearly white teeth. The tannic acid (a substance that creates a dark color) in these beverages etches into the grooves and pits of your tooth enamel, staining your pearly whites into a dreary brown.
So what should you do to slow down the taint by these essential beverages on your pearly whites?
Our Doctors suggest that after consuming these beverages, always rinse out your mouth with a glass of water. If you are drinking cold versions of these beverages, always try to use a straw so that these tannis don't come into contact with your upper and lower front teeth.
Besides rinsing after each cup of these beverages, it's in general a good idea to rinse out after every meal (especially if you are not able to brush after each meal). Water will help neutralize acids left in your mouth after eating and reduces cavity-causing bacteria.
Finally, there may come a day where even dutiful prevention like this still cannot eliminate the effects of browning teeth from these beverages. At that time you can consider the options of teeth whitening. But if you follow the easy prevention of simply rinsing regularly, you should be able to stretch out those whitening sessions and save yourself some hard-earned cash.
Until next time... keep up the rinsing. :)
Ortho in time for Summer
Featuring our most recently completed ortho case just in time for the summer...
Dr. Mai recently completed this ortho case after 2 years of work with one of our lovely patients. Dr. Mai corrected both moderate spacings in the upper and lower arches in addition to flared upper front teeth and a deep bite. Despite some challenges that were faced, where some spaces reopened after closing and the left side space closing slower than the right side, Dr. Mai was able to overcome those issues working with the patient to bring about beautiful results in the end.
Our patient can now enjoy this summer with a new beautiful and confident smile. We pride ourselves in giving our patients the best dental care experience and results to smile about.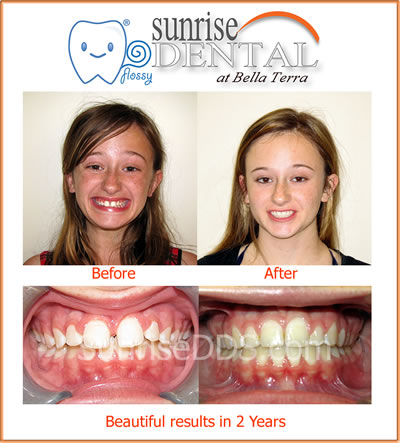 Functional Emergency Denture in 2 Hours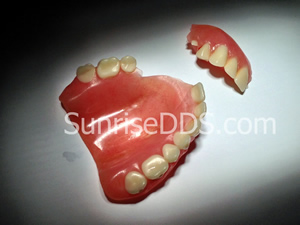 Broken denture, big fracture on large portion, barely hanging in place.
Denture cannot be repaired.
Over the weekend we received an emergency call from an out of town patient who suffered a very bad fall on the face. Unfortunately the patients denture broke into 2 pieces with a large fracture over the main piece. Repair was not possible as the denture was essentially broken into 3 pieces.
Within just a few hours we managed to replicate a working denture for the patient while they went to the hospital for the injuries. By the time the patient returned we had finished making a new temporary denture. The patient was so happy to have a functional denture despite the injuries.
We understand our patients needs and how important their teeth is to their overall appearance and well-being. This patient chose to come to us even before going to the Emergency Room for the injuries. The patient informed us that having the denture fixed is the absolute most important thing. We understand that. We told the patient not to worry, go get the injuries taken care of and a new set of dentures will be waiting here upon their return.
This is now counts as the 3rd full & immediate fabrication and replacement of dentures we have done at Sunrise Dental Center. These cases demonstrate our Doctor's and Staff's level of skill and patience, as well as our dedication to our patients, in staying behind to wait for their return from the emergency room.
Our Doctors and Dental Assistant stayed after hours on Saturday to finish this case for the patient, who though left bruised from the fall, ended up happy that they won't be without a smile even for a day.
New, fully functional denture completed in 2 hours (left) compared to the broken one (right).
(Broken one is temporarily glued together, but no longer usable due to damage)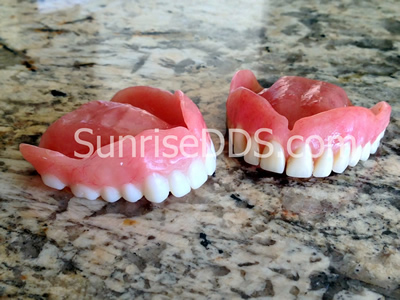 Temporary denture, completely functional, took us 2 hours to fabricate (left). Old broken denture (right).
Good Lifestyle & Good Deals
This month we celebrated the Grand Opening of the Bella Terra Apartments. These beautiful new apartments have opened up right inside Bella Terra. Not only do they offer a convenient lifestyle, but each resident also gets a discount card to use at the shops here at Bella Terra. Good lifestyle and good deals. Take a look at these beautiful apartments:
Bella Terra Block Party - May 2013
Some photos from Saturday's Block Party 2013! The turnout was even larger than last year. Our prizes even ran dry near the end and we stocked a lot.
This year we gave out prizes for Tres White Bleaching Trays, Movie Night tickets.

Hope everyone had fun!