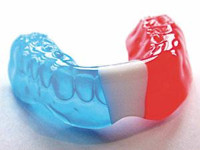 With sports season underway, we wanted to remind our patients about the importance of wearing a sports guard.

Q: What are sports guards?
A: Sports (athletic) mouthguards are a flexible, removable soft plastic dental appliances which can provide a degree of protection for both the mouth's soft tissues (lips, cheeks, gums, tongue) and hard tissues (teeth and jaw bones). They are adapted to fit comfortably with the shape of the upper teeth.

Q: Why are sport guards so important?
A: Sport guards provide protection for the teeth, the lips, cheeks, and tongue. They also help protect athletes from head and neck injuries, as well as concussions and jaw fractures. Many organized sports are requiring mouthguards to prevent injury to their athletes, and research has shown that most oral injuries occur when athletes are not wearing mouth protection. Having one means you'll avoid having call upon us as your emergency dentist for your used-to-be pearly whites.

Q: When should I wear my sport guard?
A: Whenever you are in an activity with a risk of falls or head contact with other players or equipment. Athletes participating in contact sports like basketball, football, boxing, soccer, rugby, martial arts, ice hockey, lacrosse, field hockey, water polo, and wrestling should protect their mouth with a guard. Other sports, while not being true contact sports, can still provide ample potential for collisions with objects or other athletes. Participants in tennis, gymnastics, surfing, bicycling, handball, racquetball, baseball, skateboarding, volleyball, skiing, skydiving, rollerblading, squash, and acrobatics should consider obtaining and wearing mouth protection.

Q: How do I choose a mouthguard that is right for me?
A: In general there are three types of sports mouthpieces: stock, boil and bite, and custom.
Stock is one you purchase pre-made with no customization. While they are the cheapest type of guard, the level of protection they provide is typically minimal too. They're frequently only available in a few sizes (i.e. small, medium, and large). And as a result, they're often ill-fitting, uncomfortable to wear and don't stay in place well. Additionally, size limitations sometimes dictate that the wearer's back teeth aren't full covered as is required for maximum protection.
To compensate for their lack of retention, athletes are frequently forced to hold them in place by way of clenching their teeth, which can make it difficult for them to speak and breathe.
In some cases, the wearer may attempt to improve functionality or comfort by way of trimming their appliance. If taken to an extreme, this type of customization can unwittingly compromise the level of protection the product can provide.
Boil and bite is where you customize it by immersing it in hot water and then placing it in your mouth. Then using your fingers, lips, tongue, cheeks, and biting pressure to seat and mold its contours. A criticism of this type of mouthguard is that during the customization process the thickness of the plastic covering the chewing and biting surfaces of the teeth may become thinned out, thus compromising the amount of protection that the guard is capable of providing.
Additional criticisms include: 1) They are often bulky. 2) They may fail to cover over the wearer's teeth and jaws adequately, due product-size limitations, incorrect product selection or errors in the at-home customization process.
Custom
is where your dentist custom creates ones for you, which will be more comfortable to wear and the most effective protection. The design is not only individualized just for the athlete but also as to the level of protection it needs to provide.