Sunrise Dental Center - Emergency Dental Care
We provide IMMEDIATE emergency care 24/7, because life is unexpected. Feel comfort in knowing that we will do our best to take care of you whenever you need.
If you are experiencing toothache and believe you have a dental emergency. The most common causes are:
Broken tooth or missing filling.
Advanced tooth decay.
Infected or abscessed tooth.
Dry Socket (a painful condition after extraction).
Need for a root canal.
---
Meet our Emergency (General/Cosmetic) Dentist Dr. Steven Shao DMD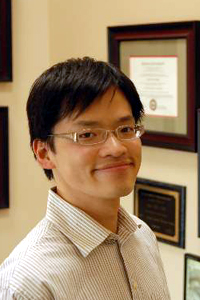 University:

University of California San Diego, La Jolla, CA
Graduated with Provost Honor

Dental Education:

Boston University School of Dental Medicine, Boston, MA

Endodontic Training:

University of Pacific, San Francisco, CA

Dental Implant Training:

Nobel Biocare Implant Course, Yorba Linda, CA
Zimmer Implant Course, Carlsbad, CA
Titanium Dental Center Implant Course, Chino Hills, CA
Advanced Implant Restorative with Dr. Strong, Yorba Linda, CA
Implant Training Course with Dr. Kim (Periodontist)

Lumineer Certification:

Anaheim, CA

Cosmetic Dentistry:

AACD – American Academy of Cosmetic Dentistry Continue Education

Cerec Training:




Cerec Training, Scottsdale Dental Center, Scottsdale, AZ
Cerec 3D Summit, Scottsdale Dental Center, Scottsdale, AZ
 See more of Dr. Steven's full profile
---
Our Emergency Services include:
Evening and weekend appointments
Walk-in's welcome during regular hours
Complimentary consultation during regular hours
Emergency Pain Management 24/7
Same-day implant, denture repair, and crown repair/replacement available
1-Hour bleaching, crowns, and fillings
---
Quick Immediate Tips for Dental Emergencies
Gently rinse your mouth with warm water.
Do not apply aspirin to the area, as it may burn your gum tissue.
Cap a lost filling using a piece of sugarless gum.
If your tooth got knocked out, hold the tooth only by the crown (chewing edge) and keep it moist at all times with milk (or water if no milk is available). Having it treated within 1 hour is your best chance of recovering this tooth.
Gently apply gauze to stop any bleeding.
Apply cold compresses to the outside of your mouth to reduce swelling and pain.
For pain, take an over-the-counter pain reliever such as Tylenol or Advil.  Do not exceed recommended doses.
---
Our Dental Emergencies FAQ
Accidents can happen, and when they do, some basic knowledge could mean the difference between saving or losing your tooth. Our Dental Emergencies FAQ will go over some of the common mishaps. But ALL emergencies dictate you should see a dentist as soon as possible. If the case is very severe and you are unable to locate a dentist, consider visiting your local emergency room.
Q: How do I treat a toothache?
A: This is a very common dental emergency. A toothache is often a sign of infection in or around the tooth. Rinse out your mouth with warm water to clean. You can floss gently to remove any food that might be caught between your teeth. Do not put aspirin on your aching tooth or gums as it may damage the gum tissue. If the pain continues, contact your dentist right away.
Q: What should I do if my tooth got knocked out?
A: For knocked-out tooth is a permanent or adult tooth, keep it moist at all times and hold it only by the crown (chewing edge). Do not attempt to clean the tooth, for risk of further damage. If possible, try placing the tooth back into the socket without touching the root. Bite down gently on gauze or a wet tea bag to help keep it in place. Be careful not to swallow the tooth. Otherwise, place it in between your cheek and gums, in milk (or water if milk is not available), or use a tooth preservation product with the ADA Seal. Or try to place the tooth in a container and cover with a small amount of whole milk or saliva. Then get your and your tooth to your dentist as soon as possible. The best chance of successfully saving the tooth is to be seen within 1 hour. For the future, consider purchasing a tooth-saving storage device (Save-a-Tooth, EMT Tooth Saver) that may be available at your dentist's office. Such a kit contains a travel case and fluid solution and is a good piece to keep in your home first-aid kit.
If your tooth is badly broken, your nerve endings may be exposed. You will need immediate dental help to avoid infection and pain.
Q: How do I remove an object that's stuck in my mouth or teeth?
A: Try to gently remove foreign objects with floss. Never use a sharp or pointed instrument. Then see your dentist or go to the emergency room right away.
Q: What if I cracked my teeth?
A: Immediately rinse your mouth with warm water to clean it up. Place cold compresses on your face to reduce swelling. You should eat only soft foods and try to avoid food and drink that are hot and cold to the touch. Get to your dentist asap.
Q: What should I do if I bit my lip/tongue badly?
A: Use ice or pressure to control any potential swellings or bleeding. Most swellings should go away within 24 hours. Contact your Dentist if the pain persists or the laceration is deep.
Q: I think my jaw is broken?
A: If your jaw hurts when it is moved or you cannot close your mouth in a normal fashion, you may have a fractured jaw. Apply cold compresses to control reduce the swelling. Get to your dentist or the emergency room asap.
Q: How can I avoid dental emergencies?
A:
Never use your teeth to cut things, use scissors instead.
Avoid chewing on ice, hard candy, popcorn kernels and other hard objects. 
Always try to wear a mouthguard or sportsguard when participating in sports or recreational activities.
Phone: (714) 890-1700