Sunrise Dental Center - Patient Education and Q&A
Commonly asked questions

Sunrise Dental Center @ Bella Terra

Last updated May 20th, 2010
by Dr. Steven Shao





This section is designed to help answer some frequently asked questions in our dental office. We value patient dental education here at Sunrise Dental Center @ Bella Terra. If you have any questions or concerns with regards to these topics or any additional questions. Please feel free to contact our office on the phone or e-mail us to submit your questions. We will provide an answer as soon as possible.







Dr. Steven Shao
E-Mail:

This email address is being protected from spambots. You need JavaScript enabled to view it.




10 GREAT FOODS FOR YOUR SMILE
Recommended by Dr. Phuong-Mai Ong & Dr. Steven Shao
Sugar-Free gum and snacks: Sugar-free gum and candy are excellent food that helps increase saliva flow, neutralize harmful acid, and xylitol based candy and gumis proven to fight off plaque and cavity causing bacteria.

Water: Drinking sufficient water is easiest way to promote optimal oral health. Proper hydration maintains healthy level of salivary flow, which is essential to fight off plaque causing bacteria. We recommend rinsing mouth with water after meal to remove remnant food particle.

Whole Grains: Research has shown 3 servings of whole grains in the diet can reduce gum disease, as well as prevent diabetes.

Mushrooms: They contain lentinan which prevents plaque build up.

Cheese: Contains high level of calcium and phosphate that are beneficial for building strong enamel and jaw bone. Cheese can also counteract acidity in saliva to prevent cavity and gum disease.

Celery(Veggies): Chewing on celery helps cleaning teeth. Its high fiber content help brushing off plaque and bacteria. Chewing on high fiber vegetable promotes saliva flow that is essential for excellent oral heath.

Onion: Contains high amounts of sulfate that kills bacterial germs that cause cavity. Fresh raw onion has the best anti-bacterial property.

Mint: Fresh mint can freshen breathen and as a herbal medicine mint can reduce gingivitis and improve circulation.

Cranberry: Cranberry contains high levels of nondialysable material that can prevent plaque bacterial build up. It also has anti-plaque and anti-bacterial properties to promote oral health

Green Tea: Green tea contains high amounts of fluoride, antioxidant, catechin, which are beneficial in reducing cavity, acid erosion, plaque build up and gum disease
Q: What is Bruxism (teeth grinding and/or clenching)?

A: Bruxism is a common dental problem that affects millions of Americans. The term bruxism refers to involuntary grinding and clenching of the teeth. Most bruxers are often unaware of their teeth grinding habits until damage to the teeth, joints and muscles are evident. Bruxism is diagnosed and treated at the dental office. Please let us know during your routine dental checkups if you have symptoms to bruxism.
Symptoms of bruxism may include: Headaches, breakage of dental restorations, unexplained chipped, worn down teeth, jaw pain and sensitive teeth. Left untreated, bruxism could lead to severe constant headache, and severely worn down teeth that causes teeth loss or bite collapse.
Bruxism habits are associated with mal-aligned teeth and elevated level of stress. Treatment for bruxism includes custom fabricated night guard, behavior modification, stress reduction protocols and in more severe cases neuromuscular treatments.
Q: What is Cerec and what does it do?
A: Cerec stands for Ceramic Restoration - it is a CAD / CAM (Computer Assisted Design / Computer Assisted Manufactured) system. Cerec is an in office system that allows us to create metal free porcelain crowns, veneers and fillings with high accuracy and speed. Cerec utilizes a 3 dimensional scanner to create a digital model of your tooth and creates beautiful restorations from solid blocks of compressed porcelain. Cerec eliminates the need for multiple dental visits to deliver restorations and frustration with loose temporary crowns and tooth sensitivity. With 25 years of research and experience, Cerec restorations are currently one of the best choices for dental restoration. Chair side color matching also ensures a highly esthetic result in under an hour.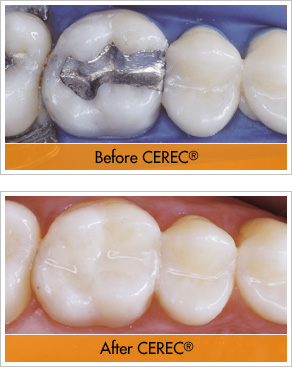 Q: Why do I need dental x-rays and how safe is it?
A: Dental x-rays allow dental professional to diagnose cavities, cyst, advanced periodontal disease, bone disease and certain type of tumor. Dental x-rays are also needed for dental implant treatment, orthodontic diagnosis endodontic treatments. Most dental diseases cannot be properly diagnosed without the help of x-rays. Modern dental x-ray technology produces very little radiation. Digital x-ray sensor technology further reduces the amount of radiation emission by up to 90%. The amount of radiation received in a dental visit is less than the amount of natural radiation we receive in one day.
Q: When should I bring my child to the dental office for check up for the first time?
A: Before the first birthday. You should bring your child to visit a dentist when the first baby tooth comes in. This usually occurs 6 month to 1 year of age. Early dental visit for your child gives us the opportunity to evaluate the oral dental condition and also provide important hygiene and educational information for the parents. Early Childhood Caries (Baby Bottle Tooth Decay) is often a result of lack of education for the parents.
Q: When should I start cleaning my baby's teeth and how?
A: Start cleaning your baby's teeth and gum as soon as possible. Use a clean towel or infant toothbrush to clean the gum gently. As soon as baby teeth appear, brush them with small amount of fluoride toothpaste on infant or baby toothbrush gently.
Q: What are my options to correct my crooked teeth?
A: Depending on the condition and severity, there are several options to straighten mal-aligned teeth. Orthodontic options including standard braces with either metal or tooth colored ceramic brackets. Invisalign may be a good option for mild cases of teeth mal-alignment for patients who do not want to have bonded brackets or wires. In some cases dental veneers, crowns, or bonding material can be used to give the appearance of straight teeth in a short amount of time.
Q: What is the difference between DDS and DMD?
A: DDS stands for Doctor of Dental Surgery and DMD stands for Doctor of Dental Medicine. (in Latin) Different degrees are given by different dental schools in the Unites States. DMD and DDS degrees are practically identical; the only difference is the actual title.
Q: How often should I go visit the dental office and why?
A: We recommend patients to visit a dental professional every 4-6 months for checkup and cleaning. Routine checkup is the best way to prevent extensive dental problems. We evaluate gum health, tooth decays, tooth mobility, evaluate sensitivity, teeth alignment and perform oral cancer screening at every dental checkup visit. Early detection and treatment is the best option to prevent dental disease.
Q: What is tartar, how does it form and can I clean it off with toothbrush?
A: Tartar, also known as calculus, is a calcified layer of dental bacteria that is permanently attached to the surface of your tooth. Calculus attaches to you teeth similarly to how coral is attached to the surface of rocks in the ocean. Once calcification process began on dental plaque, it would be very difficult if not impossible to brush off with toothbrush – manual or electric. Dental instruments such as ultrasonic scalers and hand scalers are necessary to chip off such build up on your teeth.