Sunrise Dental Center - Endodontics
Endodontics (Root Canal) Treatment
Introduction
Endodontics by Sunrise Dental Center general and cosmetic dentistry Orange County Dentists Specialist Clinic focuses on the diseases of the tooth's pulp located in the center of the tooth and in the canals (root canals) within each tooth root. The pulp consists of nerves, blood vessels and connective tissues that nourishes the tooth when it first emerges. When the tooth reaches maturity, the pulp can be safely removed from the pulp chamber whilst maintaining the root canals and the tooth since the tooth is also nourished by the blood supply that surrounds it. The removal of this pulp is termed endodontic treatment and is often referred to as root canal treatment or root canal therapy. Many people refer to this as "having a root canal." Root canal treatments are quite common and save an estimated 24 million teeth each year in the United States.
Meet our Endodontist (Root Canal Specialist) Dr. Xia Lin DMD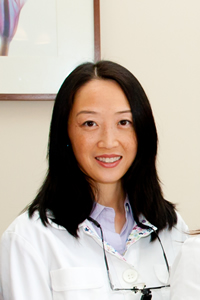 | | |
| --- | --- |
| Dental Education: | Harvard School of Dental Medicine |
| GPR Training: | Goldwater Hospital |
| Specialty Training: | New York University - College of Dentistry |
 See more of Dr. Xia's full profile
---
 Our Services
Complimentary Consultation
All surgical procedures related to endodontics:

Apicoectomy
Retrograde fillings

Post and Core
Emergency pain management
In-House Root Canal Treatment/Therapy: an endodontic treatment removes the injured pulp (soft inner tissue) of your tooth and fills and seals the space.
Root Canal Retreatment
Phone: (714) 890-1700
---

Nothing is as good as your natural tooth!
One of our key services at Sunrise Dental Center is Endodontics, commonly known as root canal therapy. With our on-site Endodontist, our General Dentists skilled in Endodontic treatments, along with our advanced dental technology, Sunrise Dental offers unparalleled endodontic treatment from beginning to finish, oftentimes in just one visit. We can provide our patients with the same comfortable environment and convenience with the familiar staff and Doctors that have earned your trust. We eliminate the need to refer our patients externally, which may result in delayed treatment and prolonged patient discomfort. Endodontics is the specialization of saving natural teeth and in performing root canals.
Saving your natural tooth should always be your first choice when dental care is needed. Nothing, not even the most advanced bridges and implants, can truly replace your natural tooth.
Your tooth is then restored and can function just like any other tooth for the rest of your life, ensuring comfortable chewing and a natural appearance.
Endodontists can often save the most severely injured teeth.
Do everything possible to save your teeth before considering extraction. Nothing is as good as your natural tooth!
---
Experiencing toothache?
Toothache pain is the main reason for patients seeking endodontic treatment. Fortunately, modern anesthetics can make the procedure painless in most cases. Seeking treatment early makes the procedure more comfortable, so don't wait. When caught early, treatment should feel no different than having a regular filling.
If you feel any hot/cold sensitivity, pressure sensitivity, or pain on biting, notify us immediately. If detected early, the chance of success is as high as ~96%, but if detected later on, the chance of success lowers to ~75%.
Most patients return to their normal daily routine after treatment.  Your tooth and surrounding gum tissue may be slightly tender for several days as a result of manipulation during treatment and previous condition of your tooth.  This tenderness is normal and no cause for alarm. You may continue with your regular dental hygiene regimen.
How does endodontics help me?
Endodontic treatment helps save your tooth by removing the diseased portion of the tooth (the pulp).  Endodontic treatment also allows for removing any discomfort in addition to preventing further infection.  The Endodontist removes the inflamed or infected pulp, carefully cleans and shapes the canal system and then seals the prepared space. If root canal therapy is indicated, a local anesthetic is given and rubber dam is placed to isolate your tooth.  An opening is painlessly made through the top of the tooth, the interior of which is then cleaned and disinfected.  Once endodontic treatment has been completed, the root canal system has been permanently sealed.  However, the outer surface is sealed with a temporary restoration.  A permanent restoration must be placed to protect your tooth against fracture and recontamination.
What is an Endodontist?
An Endodontist (aka. root canal specialist) is a dentist who has undergone a minimum of 2 years of additional postgraduate training. This specialized training allows an Endodontist to:

1. Deal with diseases of the dental pulp and supporting structures
2. Diagnose facial pain and related problems.

Endodontists specialize in saving natural teeth and in performing root canals.
Phone: (714) 890-1700