Sunrise Dental Center - Dental Blog
Functional Emergency Denture in 2 Hours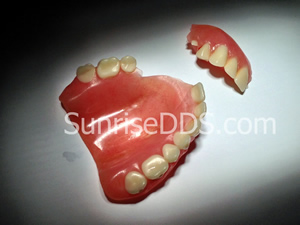 Broken denture, big fracture on large portion, barely hanging in place.
Denture cannot be repaired.
Over the weekend we received an emergency call from an out of town patient who suffered a very bad fall on the face. Unfortunately the patients denture broke into 2 pieces with a large fracture over the main piece. Repair was not possible as the denture was essentially broken into 3 pieces.
Within just a few hours we managed to replicate a working denture for the patient while they went to the hospital for the injuries. By the time the patient returned we had finished making a new temporary denture. The patient was so happy to have a functional denture despite the injuries.
We understand our patients needs and how important their teeth is to their overall appearance and well-being. This patient chose to come to us even before going to the Emergency Room for the injuries. The patient informed us that having the denture fixed is the absolute most important thing. We understand that. We told the patient not to worry, go get the injuries taken care of and a new set of dentures will be waiting here upon their return.
This is now counts as the 3rd full & immediate fabrication and replacement of dentures we have done at Sunrise Dental Center. These cases demonstrate our Doctor's and Staff's level of skill and patience, as well as our dedication to our patients, in staying behind to wait for their return from the emergency room.
Our Doctors and Dental Assistant stayed after hours on Saturday to finish this case for the patient, who though left bruised from the fall, ended up happy that they won't be without a smile even for a day.
New, fully functional denture completed in 2 hours (left) compared to the broken one (right).
(Broken one is temporarily glued together, but no longer usable due to damage)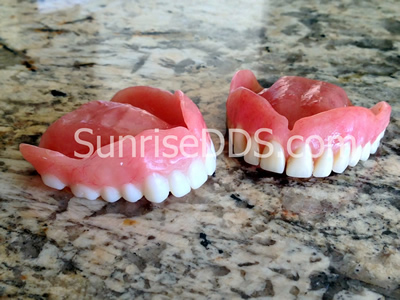 Temporary denture, completely functional, took us 2 hours to fabricate (left). Old broken denture (right).