Sunrise Dental Center - Bella Terra Services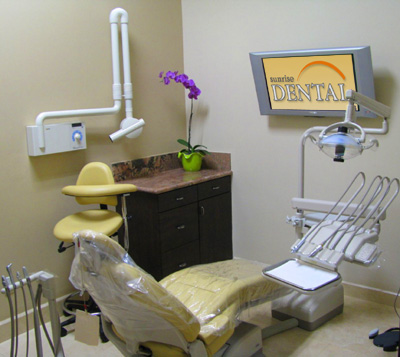 Services
At Sunrise Dental Center, our goal is to exceed your expectations so our services are designed to give you everything you need, from cosmetic enhancement to preventive and restorative care. We offer state-of-the art technology and innovative dentistry techniques in a refreshing, relaxing and compassionate environment. We strive to provide nothing less than excellent dental service and deliver lasting, beautiful results.
Our Philosophy - Conservative Dentistry
We practice Conservative Dentistry where we do our best to remain true to your natural teeth. Rather than radical tooth removal by default to quickly replace it with a restoration, we take the time to analyze what part of the tooth structure can be saved. We then focus the restoration around retaining as much natural teeth as possible, whilst customizing the restoration for a compatible fit with the conserved tooth structure. Most dentists agree that preservation of tooth structure is a desirable goal.
Same-Day Care
Sunrise Dental utilizes state-of-the-art dental technology to offer the following Same-Day services during your appointments that are unique in the dental care industry.
 

There When You Need Us

We understand that dental needs can appear unexpectedly. With our flexible hours, prompt care and advanced dental technology, we can accommodate even the tightest schedules.